Applesauce Cranberry Muffins
These muffins are delicious and you can never have too many on hand! We like them for breakfast, a snack or a teatime treat, and the smell is Christmas through and through.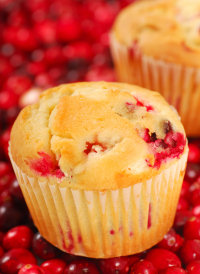 The colour of these applesauce cranberry muffins is perfect for Christmas!
Ingredients:
2 cups all-purpose flour
½ cup sugar
1 teaspoon baking soda
1 teaspoon ground cinnamon
½ teaspoon salt
1 egg (lightly beaten)
1/3 cup vegetable oil
1 cup unsweetened applesauce
1 cup fresh or frozen cranberries, chopped into smaller pieces
½ cup pecans chopped
Directions:
Preheat oven to 350F (180C, Gas Mark 4), and lightly grease the muffin tin.
In a large bowl mix together the flour, sugar, baking soda, salt and cinnamon.
In a separate bowl mix the eggs, applesauce and oil.
Add the applesauce mixture to the dry ingredients and mix together gently (do not over mix). Gently fold in the cranberries and scoop mixture into muffin cups until 2/3 full. Bake for approximately 30 minutes. Cool for 5 minutes before removing from pan.
More Christmas Recipes