Christmas Decorations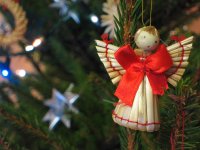 When the days are short and the evenings are dark and cold, what could be better than coming home to a beautifully decorated house, lights beckoning you through the door and the scents of Christmas welcoming you in.
Christmas decorations are big business these days, as any visit to a big store will confirm! You can choose from hundreds of different styles, colors, designs and themes, and the temptation is often to choose a bit of everything and end up with a horrible mess - or spend far too much money every year updating your style!
I hope to provide you with inspiration for your Christmas decorating this year, and have pulled together advice and ideas from around the world so that there is something for everyone! The number one tip from all our contributors is to choose a theme (see below) and try to stick with it, at least for the main rooms of the house!
Remember that Christmas decorating need not be expensive. There are plenty of ideas at www.ChristmasIsComing.co.uk for those of us on a tight budget, or those who just want to update existing decorations without spending a fortune. It is the special touches that make the difference: your home could be tranformed by one beautiful flower and foliage arrangement, or the smell of one gorgeously scented candle.
Christmas Decorating Video Round Up NEW!
See how others are decorating for Christmas, get useful tips, and try out some of these new looks! There's lots of inspiration here.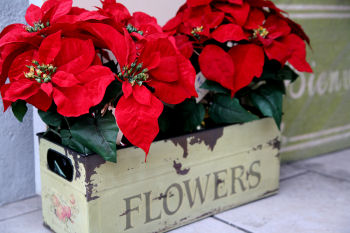 Here's a quick idea for decorating your porch, entrance or hallway. Find a vintage container (or other pretty container in Christmas colours) and pile it full of poinsettias. It's simple but so pretty.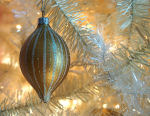 A Vintage Christmas Coming Soon!
A photo gallery of beautiful vintage Christmas decorations and settings to inspire you.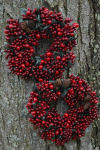 Decorating with Christmas Wreaths
We have a gallery of pictures of Christmas wreaths to inspire you to create or display your own this year!
Decorating the Christmas Table
Our gallery of photos will give you ideas and inspiration for your Christmas table decorations - whether for formal meals or simple family gatherings.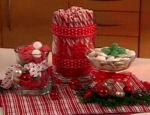 Here's a stunning and cost-effective way to use Christmas candy as a Christmas decoration. And it is all out ready to give away to visitors or serve at your Christmas party, too.
Candyland Display Video NEW!
More Christmas Decorating Ideas
Christmas Decorations The Inexpensive Way NEW!
Ideas for using greenery, pinecones and other nature finds in your home this Christmas.
Going Bold With Your Outdoor Christmas Decorating NEW!
Take Care When Choosing a Christmas Tree
When choosing the tree that works best for your family, you'll want to take several things into consideration...
Holiday Decorating on a Budget
Helpful Christmas Decorating Ideas
The "ice globes" mentioned in this article are an innovative idea for cold climates which we hadn't come across before.
Kitchen Decorating Tips for Christmas
Twelve Tips for Decorating A Christmas Tree
Your Christmas Tree - Real versus Artificial
Decorating for a Christian Christmas
Christmas Decorations and Environmental Issues
Some environmentalists object to cutting Christmas trees, but many tree farms claim that farm-grown trees are the environmental choice. Where do you stand?