Christmas Recipes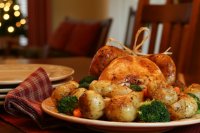 There is something very special about cooking at Christmas time. Whether it is because we have guests staying, excited children, in-laws to impress and worry over, or just family traditions that we want to maintain, it's a time to bring out our best Christmas recipes and try new ones and really go to town!
Scroll down to find a growing collection of tried-and-tested Christmas recipes. I try to only add what I've tried myself and know works, or recipes given to me by friends and family. Having said that, recipes don't always translate perfectly between grams and ounces, centigrade and farenheit and American and European ingredients: I know that this site gets visitors from outside the UK so ask that you try to be a little flexible when putting the recipes together!
Traditional Christmas Recipes
Many of our traditional Christmas recipes - Christmas pudding, Christmas cake, mincemeat for the mince pies, sloe gin and so on - need to be prepared well in advance.


Traditional Christmas Cake Recipe
Here's a traditional recipe and lots of ideas for decorating your cake, whether you leave it plain or cover with marzipan (almond paste) and fondant or royal icing.


Christmas Pudding
Here's a delicious and reliable Christmas pudding recipe, as well as recipes for brandy butter and rum sauce and instructions for flaming your pudding with brandy.
Christmas Breakfast And Breads
Christmas Morning French Toast
Applesauce Cranberry Muffins
Cinammon Apple Bread
Cranberry Pumpkin Bread
Easy Cinnamon Rolls
Festive Christmas Bread
Spiced Apple Muffins
Christmas Main Courses
Christmas Treats
Many of these Christmas treat recipes make great gift ideas. Package them nicely in boxes, tins or cellophane and wrap with an extravagant bow!
Cookies for Cutting and Icing
This cookie recipe is very useful at Christmas. Make lots of cookies with Christmas-shaped cookie cutters and ice them for guests (or the Christmas tree!)
Christmas Drinks