Caramel Popcorn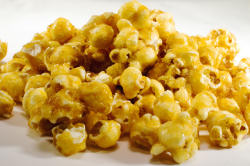 Mouth-wateringly delicious caramel popcorn!
This delicious caramel popcorn recipe makes a wonderful treat, a great accompaniment to a Christmas family film, or, packaged nicely, a much-appreciated gift! One of my daughter's favourites!
Ingredients:
14 cups plain popped popcorn (we use one packet popcorn and popped it, in two lots, in the microwave)
1 cup brown sugar
1/4 cup light corn syrup (or golden syrup)
1/2 teaspoon salt
1/2 cup butter
1/4 teaspoon baking soda (bicarbonate of soda)
1/2 teaspoon vanilla extract
Directions:
Preheat the oven to 225F (110C, very cool).
Spread the popcorn in two greased baking dishes (we use roasting dishes).
Combine the brown sugar, syrup, butter and salt in a saucepan and bring to the boil over medium heat, stirring to make sure it is all blending together. Stir constantly while you boil the mixture for 5 minutes.
Remove from the heat and add the baking soda and vanilla. Be careful, as the mixture might foam up a little. Quickly pour it over the popcorn and toss around a little to coat (don't be too anxious about coating all the popcorn at this stage).
Bake for 45 mintues, removing the dishes every 15 minutes to stir the popcorn.
Put greaseproof paper down on your counter or table and tip the caramel popcorn out, breaking it up as you go. Allow to cool and store in airtight containers or resealable bags.
If giving as a gift, this looks lovely in large jars tied with red ribbon!
More Christmas Recipes