Chocolate Chip Cookies
There are few things as welcoming as the smell of freshly baked cookies, and chocolate chip cookies have got to be nearly everyone's favourite! Make some for the festive season and everyone will be happy. This is our failsafe recipe. It makes loads (they freeze well) and they are deliciously chewy! The cookies make a super gift too. Pack them in cellophane bags and tie up with a big red ribbon.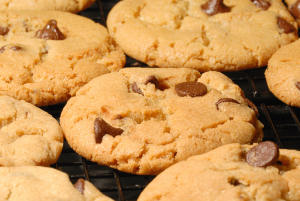 Our chocolate chip cookies on the cooking rack
Ingredients:
1 cup butter
½ cup granulated sugar
1½ cup brown sugar
2 eggs
2½ teaspoons vanilla extract
2½ cups all-purpose flour
½ teaspoon salt
1 teaspoon baking powder
1 teaspoon baking soda
2½ cups semi-sweet chocolate chips
Preheat the oven to 350F
In a large bowl (using an electric mixer if preferred) cream together the butter, granulated sugar, and brown sugar. Add the eggs and vanilla, and mix until smooth.
In a separate bowl, mix together the flour, salt, baking powder and baking soda. Add this to the butter/sugar mixture, beating until everything is mixed well. Gently fold in the chocolate chips.
Spoon small golf-ball sized rounds of dough about 2 inches apart on a paper-lined cookie tray. Bake for 9 to 10 minutes or until slightly golden and baked through. Remove from the oven and allow to cool for a minute or two on the cookie tray, then carefully move to a wire rack to continue cooling.
Back to Christmas Recipes