Christmas Morning French Toast
Christmas morning is one morning of the year when I am happy to indulge in a delicious and pampering breakfast - especially as I prepared it the night before! Put it in the oven while the kids open their stockings and it will be ready for eating just as everyone gets really hungry!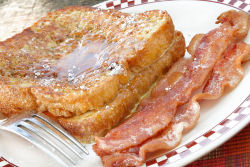 Ingredients:
1/2 loaf of French bread, cut diagonally in 1 inch slices, or white sliced bread
4 eggs
1 cup milk
3/4 cup half-and-half cream
1/4 cup and 2 tablespoons butter
2/3 cup brown sugar
1/8 teaspoon ground cinnamon
1 teaspoon vanilla extract
1 tablespoon and 1-1/2 teaspoons light corn syrup (or golden syrup)
Directions:
Butter a 9x13 inch baking dish, and then arrange the slices of bread in the bottom.
In a large bowl, beat together the eggs, milk, cream, vanilla and cinnamon. Pour over the bread slices, cover, and refrigerate overnight.
The following morning, preheat oven to 350F (180C, Gas Mark 4). In a small saucepan, combine the butter, brown sugar and corn syrup (or golden syrup), and heat until bubbling. Pour over the bread and egg mixture. Bake in the preheated oven, uncovered, for 40 minutes.
Delicious!
More Christmas Recipes