Christmas Pheasant
Madeira, chestnuts and festive ingredients combine to make this Christmas Pheasant recipe smell and taste heavenly! I don't cook pheasant at any time of year to it is a real treat at Christmas time!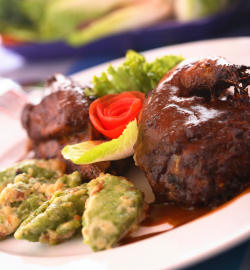 Christmas Pheasant - delicious!
Serves: 6
Preparation time: 30 minutes
Cooking time: 2 hours 15 minutes
Suitable for freezing (after step 4)
Ingredients:
8oz (225g) shallots or small onions
8oz (225g) streaky bacon, rindless
A brace of oven ready pheasants (2)
Seasoning
2 tbsp olive oil
2 oz (50g) butter
2 garlic cloves
10 fl oz (300ml) Madeira or port
1 pint (600 ml) beef stock
Sprig or fresh or pinch dried thyme
2 bay leaves
6 juniper berries (optional)
Juice and rind of 1 orange
6 tbsp (90ml) recurrant jelly
Small carton of fresh cranberries (about 2 handfuls)
8oz (225g) chestnuts, peeled (canned, frozen or vacuum-packed)
Fresh thyme to garnish
Instructions:
Turn the oven to Gas Mark 3 (170 degrees C, 325 F).
Remove the backbone and knuckles from the pheasants and cut each pheasnat into four pieces. Season. Cut up the bacon into small pieces and peel the shallots.
Brown the shallots and bacon in the butter and oil and put to one side. Add the pheasant, two or three pieces at a time and fry until golden. As the pieces brown, remove and put to one side.
Add the crushed garlic to the casserole dish and stir for a moment or two before adding the stock, thyme, juniper berries, bay leaves, orange rind and half the Madeira. Heat to boiling and add the pheasant. Cover and put in the oven for 60 minutes.
Add the redcurrant jelly, bacon and shallots. Cook for an additional 45 minutes or until the pheasant is tender.
Meanwhile, soak the cranberries and chestnuts in the remaing Madeira and orange juice.
When the 45 minutes is up, remove the meat and vegetables from the casserole dish and keep warm in another dish in the oven. Reduce the remaining liquid until it is syrupy. Add the ingredients from step 6 and simmer for 5 minutes more.
To serve, either plate up and drizzle some of the sauce over each serving, or combine all the ingredients in your casserole and stir through then ask your guests to help themselves. Garnish with fresh thyme.
More Christmas recipes