Cinnamon Apple Bread
This gorgeous Cinnamon Apple Bread fills the kitchen with delicious Christmas smells as it is cooking! I hope your family enjoys this as much as my husband and son do!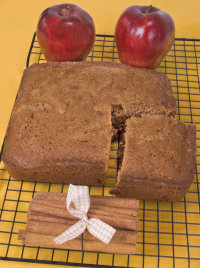 Cinammon apple bread - with a wonderful cooking smell
Ingredients:
2 1/2 cups flour
1 teaspoon baking soda
1/4 teaspoon salt
1 teaspoon cinnamon
1 cup sugar
1/2 cup butter (melted)
1 egg (beaten)
1/2 cup milk
1 teaspoon vanilla
1 cup peeled, chopped apples
1/2 cup raisins
1/2 cup chopped pecans (optional)
Directions:
Preheat oven to 350F (180C, Gas Mark 4) and lightly grease a loaf pan. In a large bowl combine the flour, baking soda, salt, sugar and cinnamon. Add the melted butter, egg, milk and vanilla. Mix well, then fold in the chopped apples, raisins and pecans (if using).
Pour the batter into the loaf pan. Top with chopped pecans (if using). Bake for approximately 45 minutes or until center is cooked through. Cool for 10 minutes in pan before removing to wire rack to cool completely.
More Christmas Recipes