Cranberry Pumpkin Bread
Any recipe with cranberries in it suggests Christmas - and this Cranberry Pumpkin Bread recipe is delicious, unusual and perfect for the festive season!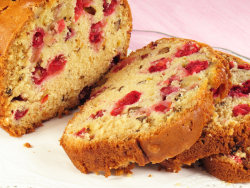 Beautiful Cranberry Pumpkin Bread!
Ingredients:
2 1/4 cups flour
2 teaspoons baking powder
1 tablespoon pumpkin pie spice
1/2 teaspoon salt
2 eggs (beaten)
1 cups brown sugar
1 (15 ounce) can pumpkin puree
1/2 cup vegetable oil
1 cup fresh or dried cranberries
Directions:
Preheat oven to 350F (180C, Gas Mark 4) and lightly grease two loaf pans.
In a large bowl combine the flour, baking powder, sugar, pumpkin pie spice and salt. Mix well.
In a separate bowl, combine the pumpkin puree, eggs and oil. Add the pumpkin mixture to the flour mixture and stir well, then fold in the cranberries.
Transfer mixture to the loaf pans. Bake for approximately 45 to 55 minutes or until golden and baked through. Cool for 5 minutes in pan before removing to wire rack to cool completely.
More Christmas recipes