Easy Christmas Swirl Brownies
Brownies are good at any time of year, but these Easy Christmas Swirl Brownies are really special! They take just a little extra time to create the "swirl" effect, but using a mix compensates for that. I prefer Betty Crocker's brownie mix, which you can buy in most major UK supermarkets (it comes in a red box).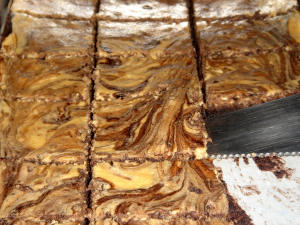 Easy Christmas swirl brownies - so good!
Ingredients:
1 package brownie mix
1/ teaspoon vanilla extract
1/8 cup cream
1 package of cream cheese
1/3 cup sugar
1 bag smartees, M&Ms or similar.
Directions:

In a large mixing bowl, cream the sugar and cream cheese until fluffy. Add the egg, cream and vanilla extract. Mix well and set aside.
Prepare the brownie mix according to instructions. Line a 9x13 inch baking pan with parchment paper and then pour 2/3 of the batter into the pan. Place ½ cup of the M&Ms over the brownie batter. Then spoon the cream cheese mixture over the M&Ms and batter. Finally, scoop the remaining brownie mixture over that. Using the tip of a knife swirl the mixture for a marbled effect.
Bake for approximately 45 minutes at 350F (180C, Gas Mark 4) until baked through but still moist (do not over bake). Cool before cutting into squares.
More Christmas Recipes