Easy Cinnamon Rolls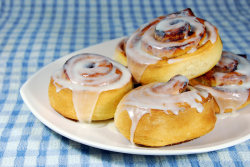 The smell of these easy cinnamon rolls cooking will drive you wild! Perfect for a festive Christmas breakfast or to accompany coffee with friends. For me cinnamon rolls are a real treat, and I hope you enjoy this easy version.
Ingredients:
1 loaf frozen bread dough, thawed
2/3 cups brown sugar
4 tablespoons melted butter
1 teaspoon ground cinnamon
1/3 cup heavy cream
2/3 cup sifted powdered sugar
1 tablespoon milk
½ teaspoon vanilla extract
½ cup chopped walnuts or pecans
Directions:
Roll the dough into a rectangle shape and brush with the melted butter.
In a large bowl, combine sugar, cinnamon and chopped nuts, then layer over the dough. Starting with the long end, roll the dough up into a log. Moisten the edges with a little water to seal.
Cut the roll into slices. Place the slices into lightly buttered cake pans and set aside at room temperature. Allow to rise for approximately 1 ½ hours (the dough will have doubled in size). Pour the heavy cream over the rolls and bake at 350F (180C, Gas Mark 4) for approximately 25 to 30 minutes.
Combine the sugar, milk and vanilla and drizzle over the rolls during the last 5 minutes of baking.
Back to Christmas Recipes