Festive Christmas Bread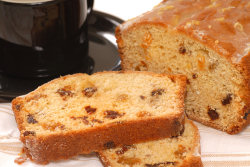 Festive Christmas bread - a good start to Christmas morning!
The cherries and nuts in this recipe make this Festive Christmas Bread extra special for Christmas celebrations.
Ingredients:
1 ¾ cups flour
2/3 cups brown sugar
½ teaspoon salt
2 teaspoons baking powder
2 eggs
1/3 cup butter
½ cup chopped nuts
1 jar (10 ounce size) maraschino cherries
Directions:
Lightly grease a 9-inch loaf pan and pre-heat the oven to 350F (180C, Gas Mark 4).
Drain the cherries, reserving 4 tablespoons of juice, and roughly chop.
In a large bowl combine the flour, baking powder and salt and mix well.
In a separate bowl cream together the butter, sugar, eggs and the 4 tablespoons cherry juice. Mix well until fully combined. Add the butter and sugar mix to the flour mixture and mix well. Then gently fold in the chopped cherries and nuts.
Scoop the batter into the loaf pan, and spread evenly.
Bake bread for approximately 45 minutes to 1 hour or until golden and baked through. Remove from the pan and cool on a wire rack for 15 minutes.
Back to Christmas Recipes