Furoshiki The Japanese Art of Cloth Wrapping
Furoshiki is an ancient Japanese tradition of wrapping in cloth. In ancient times, a furoshiki cloth would be used for all sorts of daily chores, and it can be safely folded into everything from a large market tote to a safe wrap for bottles and glass vases! And of course, the wrapping is done with such care and attention to beauty that any gifts wrapped with furoshiki will be beautiful, too.
Traditionally, a furoshiki cloth was about 175cm square and made of a thin silk. It was therefore very light, strong and easy to fold, as well as beautiful. You can see many different designs in the videos below. For our Christmas wrapping purposes, we suggest you use either a one-colour silk or silk-effect fabric (red, green or gold spring to mind!) or a fairly lightweight Christmas print cotton. Some Christmas prints that we have found have been too stiff to use easily, so you may need to wash in advance. It may be worth stocking up just after the holidays with Christmas prints at discount prices!
Either use a small hem to make your furoshiki cloths truly reusable (you might roll a hem on a silk fabric), or use pinking shears to cut the fabric. Even with pinking shears you would expect these wrapping cloths to last a good many years!
Editor's note:
This year I will be using large men's tartan handkerchiefs and natural linen and red gingham table napkins, bought inexpensively off Ebay, to wrap some really pretty Christmas gifts.
In the old days, the furoshiki cloth belonged to the giver and would be returned to him after the gift was received and the packing enjoyed. You can decide whether you are going to reclaim your Christmas cloths or suggest the recipient re-uses them himself or herself next year!
We've rounded up some excellent furoshiki videos and tutorials for you below.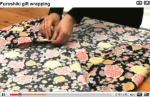 Wrap your book gifts in this eco-friendly reusable furoshki book wrapping this year!
Furoshiki Book Wrapping Video NEW!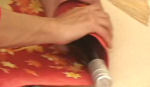 This fun video illustrates more furoshiki gift wrapping techniques, including the very useful (and simple) bottle fold!
More Furoshiki Ideas for Christmas Wrapping NEW!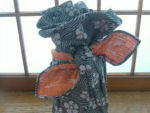 This is a very intricate Furoshiki design for expert folders! It uses a smaller double-sided cloth to wrap a bottle or vase, and the finished effect is really striking.
Furoshki Bottle or Vase Wrapping Video NEW!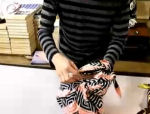 Two gifts in one! Find a beautiful furoshiki cloth or make your own, then fold it into one of these cute purses and give as an unusual and useful Christmas present this year.
Give a Furoshiki Cloth Already Wrapped Into a Handbag (Purse) NEW!
Lots of ideas for wrapping gifts in cloth - everything from a bottle to different sizes of cloth to a melon and basket! NEW!