Hot Chocolate
There is nothing quite so indulgent and comforting on a cold winter's evening than a mug of freshly made hot chocolate! We used to come home to homemade hot chocolate after the Christmas Eve children's service at the Church, and it was a real treat for us and the kids when they were little! This version serves 4.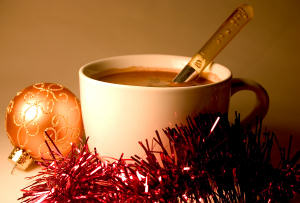 Hot chocolate at Christmas time!
Ingredients:
4 cups milk
¼ cup unsweetened cocoa powder
¼ cup sugar
¾ cup semi-sweet chocolate chips
Double cream (or whipped cream out of a can if you must) and/or mini-marshmallows
In a large saucepan combine the milk, cocoa powder and sugar. Place over medium heat and bring to a simmer, whisking constantly. Stir in the chocolate chips, remove from heat, and whisk until the chips are completely melted and the hot chocolate is frothy.
Pour into 4 mugs and top with whipped cream, miniature marshmallows or both!
Enjoy!
Back to Christmas Recipes