Snow Drop Cookies
The powdered sugar coating on these delicious Snow Drop Cookies makes them perfect at Christmas time.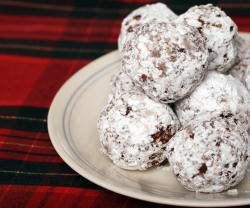 Snow Drop Cookies - so pretty at Christmas!
Ingredients:
1 cup butter
1/2 cup sugar (powdered and sifted) (icing sugar)
1 teaspoon vanilla
2 1/2 cups flour (sifted)
1/4 teaspoon Salt
3/4 cup chopped pecans
Directions:
Cream the butter and sugar in a large bowl and stir in the vanilla.
Sift the flour and salt together and add to the sugar mixture. Gently fold in the chopped pecans.
Shape the mixture into golf ball sized balls. Place on an ungreased cookie sheet and bake for approximately 15 minutes at 350F or until baked through and slightly golden.
While cookies are baking place a little extra powdered sugar in a bowl. Once the cookies are done, roll through the sugar and set aside to cool.
Back to Christmas Recipes