Spiced Apple Muffins
Apples and spices will scent your kitchen as these delicious muffins cook. Children will love this recipe, although you may prefer to leave the walnuts out for little ones.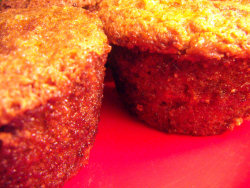 Spiced apple muffins - we left the walnuts out for this batch because my daughter doesn't like them!
Ingredients:
2 cups all purpose flour
1 teaspoon salt
1 tablespoon baking powder
1/2 teaspoon cinnamon
1/2 teaspoon nutmeg
2/3 cup brown sugar
2 eggs (beaten)
2/3 cup milk
1/4 cup butter (melted)
1 cup peeled and grated/shredded apple
1/4 cup chopped walnuts (optional)
Directions:
Pre-heat the oven to 350F (180C, Gas Mark 4), and lightly grease a muffin pan.
In a large bowl, sift together the flour, baking powder, salt, cinnamon and nutmeg. Mix in the brown sugar.
In a separate bowl, combine the eggs, milk and butter. Mix well. Add the egg mixture to the flour mixture and stir in (do not over mix). Fold in the apples and walnuts (if using).
Spoon the batter into the muffin pan.
Bake for approximately 20 minutes or until golden and baked through. Let the muffins cool in the pan for 5 minutes before removing to wire rack to cool completely.
Back to Christmas Recipes