Christmas Tree Nut Decorations
Simple, quick and natural, these Christmas tree nut decorations are an unusual homemade decoration for your Christmas tree.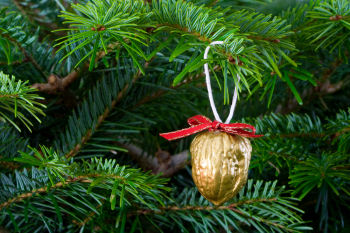 You will need:
Bigger nuts such as walnuts, brazil nuts etc
Gold spray paint
Narrow ribbon or pre-made bows
Cord to hang (or you could use a packet of hair elastics!)
Glue gun
Instructions:
Place your nuts onto newspaper and take outside, if you can, to spray paint them. If you can't take them outside, make sure you use a well-ventilated room. You will need to do several thin coats, turning them every so often when dry. The spray paint should dry quickly, however.
Form the ribbon into tiny bows. Using the glue gun, attach a loop of cord or a hair elastic (this make the process much easier and quicker!) to the top of the nut, and place a bow near the join. Leave to dry.
Alternatives:
For a "natural" tree you could of course leave the nuts unpainted. Perhaps you could use a loop of plain raffia for the hanger and more raffia for the bow.
Back to Homemade Christmas Tree Decorations
More Christmas Crafts