Homemade Christmas Tree Decorations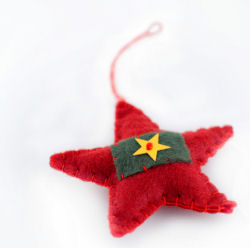 Why not decorate your Christmas tree this year with home-made Christmas Tree decorations? Your tree will be truly special and unique, and some of the decorations could become family heirlooms. You can always get the kids involved, too!


These easy Christmas tree decorations are inexpensive to make, look beautiful on any tree and can be matched to the color scheme of your home.
Christmas Tree Bows NEW!


Simple, quick and natural, these Christmas tree nut decorations are an unusual homemade decoration for your Christmas tree.
Christmas Tree Nut Decorations NEW!


Felt decorations are fun to make, inexpensive, infinitely versatile and unbreakable too! We've got some pretty ideas for you here.
Felt Christmas Tree Decorations NEW!


If you live by the sea, you can create a very pretty, natural looking tree just be using found objects like these pretty sea shells...
Christmas Shell Decoration NEW!


We've got lots of ideas for Christmas tree decorations you can make with the kids over at http://www.activityvillage.co.uk/christmas_crafts.htm
Back to Christmas Crafts