Felt Christmas Tree Decorations
Felt decorations are fun to make, inexpensive, infinitely versatile and unbreakable too! We've got some pretty ideas for you here.
First, you'll need some templates. Draw your own or print off some of these Christmas templates. You might like to make stars, trees, hearts, wreaths, holly leaves, snowmen, felt baubles...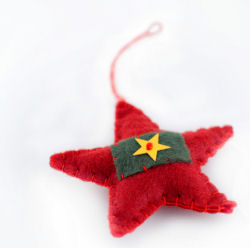 You will need:
Felt in assorted Christmas colours
Thread and needle ( use embroidery thread or thin wool)
Decorations such as sequins and beads, if required
Toy stuffing or old stockings cut into small strips
Ribbon, cord or wool to hang
Instructions:
There are so many ways to make felt decorations that we are only giving general instructions here! You will need to cut out two of your chosen shape. Decorate as appropriate - one side or two. Place wrong sides together and sew neatly around the edges with either a small running stitch or a blanket stitch, as illustrated. Leave a gap at the top of the decoration for stuffing.
Stuff the decoration carefully, using a chopstick or blunt pencil to push the stuffing right into the points of your shapes. Double your ribbon or cord and push into the opening, and secure with a few stitches. Now sew up the opening and hang your decoration!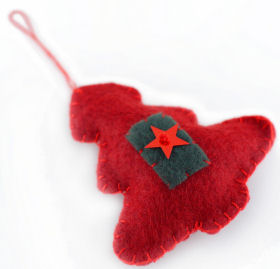 More ideas:
You could push a broken cinammon stick and some cloves or some dried lavender into the decoration when you are stuffing it for a delightful fragrance.
Use wacky, non-Christmas colours and shapes for an alternative Christmas decor!
Embroider each decoration with the initial of a member of your family.